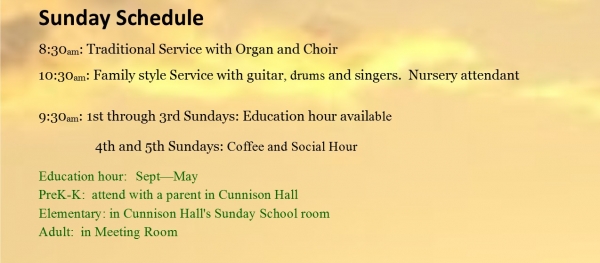 This Week at St. Mark's
Fall 2014:
Sundays
8:30am Traditional worship with organ
10:30am Family style worship with guitar and drums

Welcome to our Interim Pastor Marv Abrahamson. He will be leading a discussion on the Gospel in between services on 9/7 and 9/14 this month, starting at 9:40am in the meeting room.

Please remember to bring your Heifer banks (benefitting Heifer International) for Sunday Sept 7th. We're trying to raise enough money to buy a cow!



Posted: September 10
Just heard about an upcoming Women's retreat which includes a service project focus. Pastor Lyle Beckman, a former interim pastor at St. Mark's will be the speaker. Here is the registration page. http://womenofelcasps.org/october_retreat_registration_info
Women of the ELCA Sierra Pacific Synod - October Retreat Registration Info "Unto the Least" 2014...
womenofelcasps.org
2 Service Projects: We will make 50 fleece tied blankets Assemble 50 Personal Care Kits