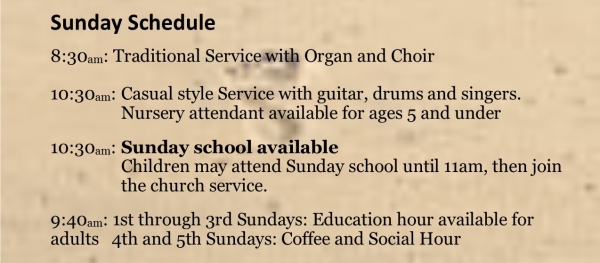 This Week at St. Mark's
Pentecost - On the fiftieth day of Easter we celebrate the Spirit, through whom and in whom the people of God are created and re-created. Pentecost is sometimes called the church's birthday, but might more appropriately be called its baptism day, since the gift of the Spirit is the fullness of baptism. Ezekiel's vision shows the Spirit resurrecting and re-creating not just individuals but a whole people. Romans makes it clear that God is in the process of re-creating the entire cosmos; yet the Spirit is also at work in the most intimate and personal way, praying in us "with sighs too deep for words" when we do not know how to pray.

The adult class studying the book One Hope continues in the meeting room between services at 9:40am with Pastor. No class on 5/31.

Posted: May 27
For all the graduates, I wish you hope...
elca.org
Dear graduates: As you celebrate your graduation from college, high school, kindergarten, etc., I offer you my congratulations.