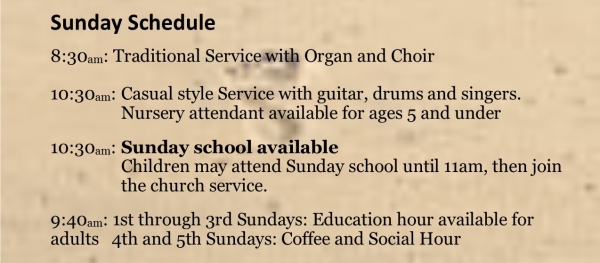 This Week at St. Mark's
What is the Holy Trinity? When we say God is the triune God, we are saying something about who God is beyond, before, and after the universe: that there is community within God. Our experience of this is reflected in Paul's words today. When we pray to God as Jesus prayed to his Abba (an everyday, intimate parental address), the Spirit prays within us, creating between us and God the same relationship Jesus has with the one who sent him.


The adult class studying the book One Hope continues in the meeting room between services at 9:40am with Pastor. No class on 5/31.
Posted: June 28
THOUGHT OF THE WEEK: This week we are honoring our volunteers and celebrating our church community. We believe that we are saved by grace, and that our works are ways of living out (and growing in) our faith. Are you interested in serving in the congregation or the community but not sure where God may be calling you to participate? Check out the spiritual gifts assessment on the ELCA website http://www.elca.org/Our-Work/Congregations-and-Synods/Faith-Practices/Assessment-Tools
elca.org
The Spiritual Gifts Assessment tool is a quick survey you can take to identify your spiritual gifts. After you have completed the survey, you will receive a document highlighting your spiritual gifts.